OK, če imamo na eni strani Andersona, Shirkyja in ostale pozitivce, ki nas skušajo prepričati, da je internet in vse, povezano z njim, od boga poslano in namenjeno širjenju same dobrote, je na drugi strani mavrice Nicholas Carr, ki svari pred temno platjo spleta. Pred propadom možganov kot posledici specifičnega načina konzumiranja spletnih vsebin. It`s fucking scary!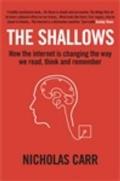 Carr ne ovinkari. Uporaba računalnikov, iskanje in konzumacija vsebin na spletu radikalno spreminja sestavo naših možganov. Za to ni potrebna dolgoletna uporaba spletnih virov informacij, Carr pojasnjuje, da se spremembe v možganih začnejo dogajati že po, I shit you not, nekaj urah uporabe spletnih tehnologij.
Prvi del knjige je posvečen možganom in prehodu iz oralne v pisno kulturo. Grki in Rimljani so se zanašali na recitale in govore, medtem ko so z iznajdbo tiska popularizirali tiskano besedo in "tiho branje". Možgani so se spremenili in prilagodili.
Nato je prišel splet. Hiter, neposreden, nelinearen. Do spleta je bila linearnost podatkov nekaj, kar smo jemali za samoumnevno. Splet je vse to obrnil na glavo. In možgani so se spet spremenili. Prilagodili. Skušali iz zmede narediti red.
V drugem delu knjige Nicholas popisuje možganske spremembe, ki so posledica uporabe spleta. Pomanjkanje fokusa, zbeganost, slabšanje dolgoročnega spominja, preplavljanje "delovnega" oz. kratkoročnega pomnenja zaradi vedno večjega števila impulzov informacij. Pregorevanje.
Poleg analize stanja Nicholas Carr ponuja tudi rešitve. Spremembe, ki jih na možganih pušča uporaba spleta, so reversibilne. Pomaga – meditacija. Branje knjig, digitalna abstinenca in linearni način življenja lahko hitro možgane spet postavijo na "pravo" pot.
Knjigo bi lahko vmestil nekam med The Dumbest Generation in The Cult of the Amateur. Od prve se razlikuje predvsem po večji poljudnosti in manjši zateženosti, slog je veliko bolj speven, a manj strokoven, od druge se razlikuje predvsem po večji objektivnosti in bolj umirjenemu tonu. Napisana je zelo kvalitetno in brez nategovanja vsebine, kot se to pri določenih avtorjih rado dogaja. Priporočam.